Ethan DeBoer earns PLTW Graduate Engineering Student of the Year for 2021-2022!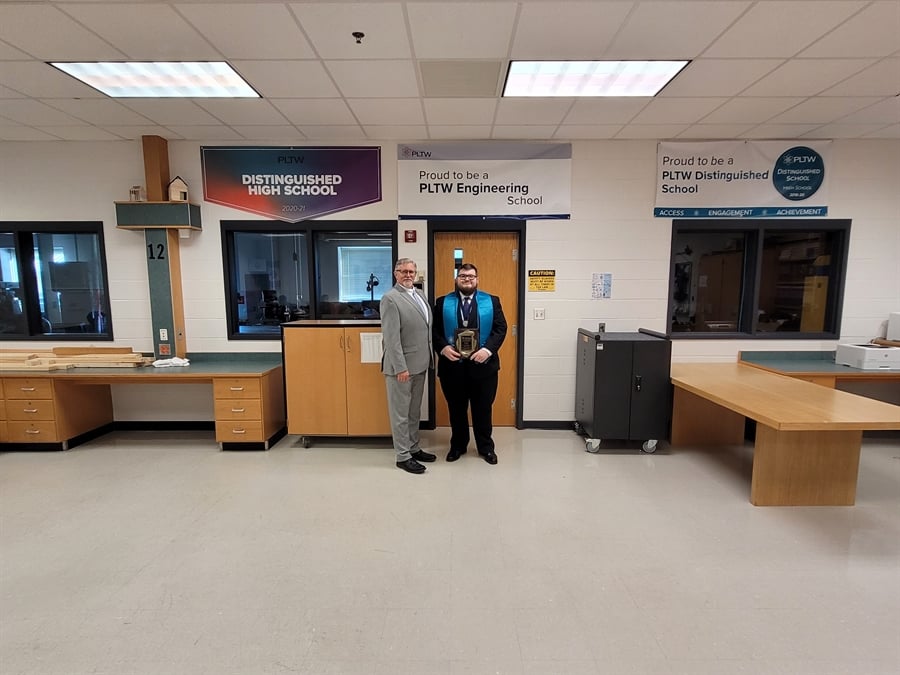 Four students complete all FIVE PLTW courses during 4 years at Battlefield earning an Honor Cord, PLTW Medal, and PLTW Certificate.
Ryan Crowe
Ethan DeBoer
Trevaris Fields
Jackson Skiff
Congratulations on this awesome dedication to the PLTW Engineering Program!
Five students complete FOUR PLTW Engineering courses during time at Battlefield earning the PLTW Medal and PLTW Certificate:
Freddy Arce
Christopher Fox
Steve Jomon
Jacob Potter
Paris Ventura
Congratulations to each of you and thank you for your participation in the Battlefield PLTW Engineering Program!
The following students completed Three PLTW Engineering courses during their time at Battlefield thus earning a PLTW Engineering Certificate.
Nicholas Agulto
William Bullock
Eric Kim
Trevor Meade
Luke Radecki
Andrew Varnes
Anastasia Zola
Congratulations on your commitment to the Battlefield High School PLTW Engineering Program!
StellarXplorers Team 2021 - 2022 Soars!
The team of Vanessa Valencia, Ryan Harris, Logan Woods, Jaydin Woodward, Keagan Long, and Paul Graser recently completed the 3rd round of this year's competition. The team is comprised of all new members this year. Pictured are (left to right) Keagan Long, Jaydin Woodward, Vanessa Valencia, Paul Graser, Ryan Harris, and Logan Woods. Team members are displaying their Challenge Coins provided by the Air Force Association.
Colonel Ben Bennett U.S. Space Force, provided valuable coaching input and is shown with four members of the team and Mr. Bishop during a recent practice round.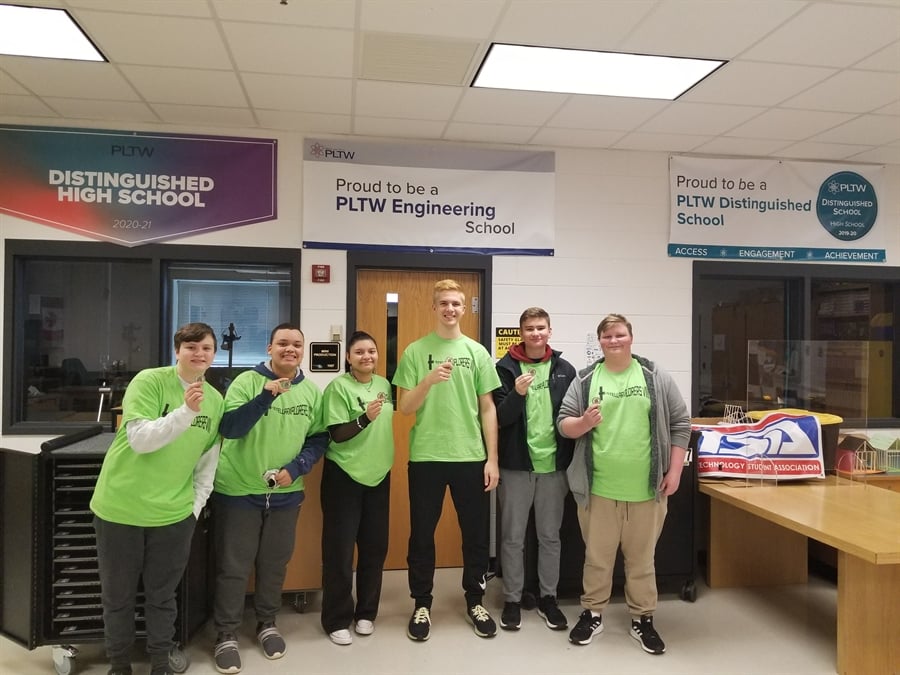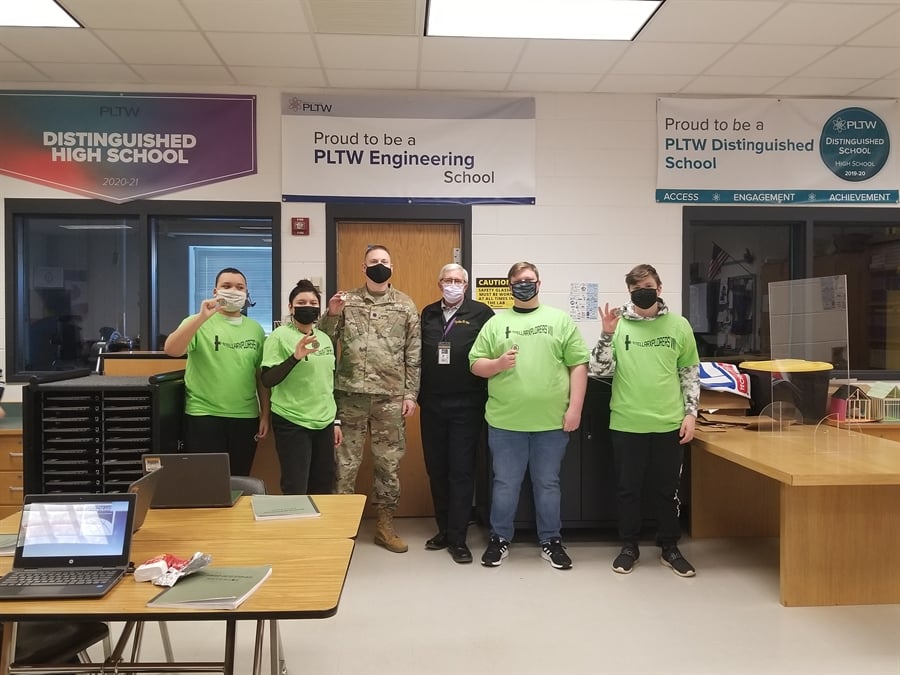 The StellarXplorers National Space Design Competition
The StellarXplorers National Space Design Competition provides specific training in the use of system simulation software, Systems Tool Kit (STK), as well as an online textbook as a curriculum supplement and study resource for online "team" quizzes given during the competition. The actual competition is accomplished from the team's home location. Teams are given a scenario describing the system's mission and constraints and they provide a solution to a typical space design problem, such as orbit determination, satellite component selection, and launch vehicle planning.
Students interested in joining or forming a new team for 2022-2023, see Mr. Bishop in Rm 1162 - PLTW.
BACK TO BACK!
Battlefield High School earns consecutive PLTW Distinguished High School Award!
2019-2020 and 2020 - 2021
Going for a 3-peat in SY 2021-2022!
To clear up any confusion regarding the Project Lead The Way program at Battlefield, there is no application required to take our PLTW courses. We currently offer FIVE (5) PLTW courses and are always looking to both improve and increase our course offerings.
Our goal is to expose students in all grades to multiple engineering disciplines which can lead to higher education at the community or university level, integration into the work force, or government service employment to include the military immediately upon high school graduation. In essence, we are working to help your child realize his or her full potential.
When we began this journey on the PLTW Engineering Pathway a few short years ago, we began with the Introduction to Engineering Design course. Then we added Digital Electronics and Principles of Engineering, followed by Civil Engineering and Architecture. This year we were able to add Engineering Design and Development for a total of five (5) PLTW courses in the Engineering Pathway. And so, it is quite fitting that we also have five (5) students who have completed all five PLTW Engineering Pathway courses. To them, and to all of our PLTW Engineering students, Mr. Spudic and I say, "Thank You."
The five young men who have completed all five courses: Josh Forero, John Keane, Luke Kolasch, Adam Kuzmicki, and Matt Rupert. Congratulations and again, thank you for helping to make Battlefield High School a PLTW Distinguished School!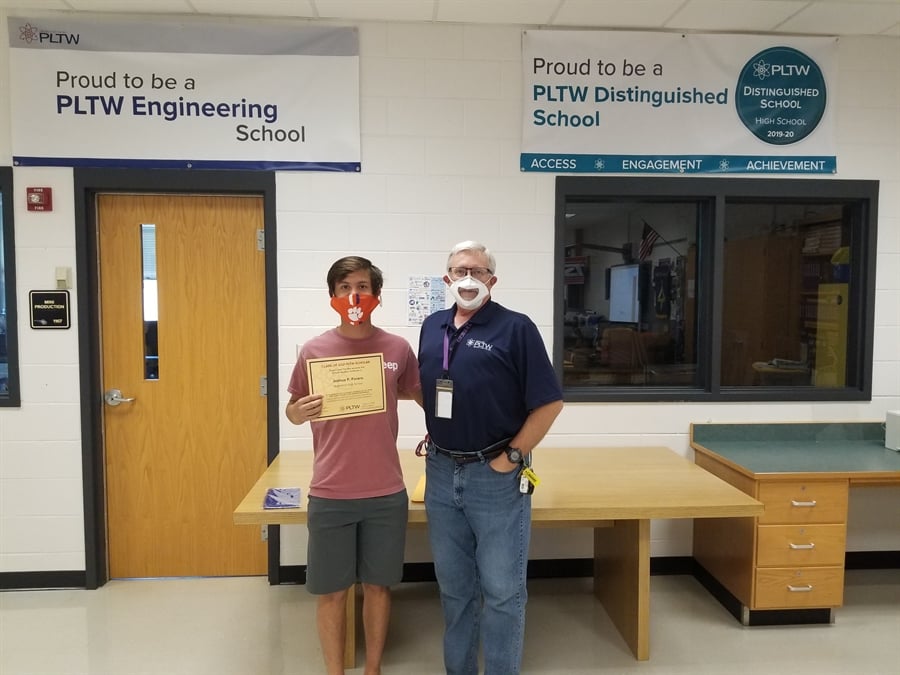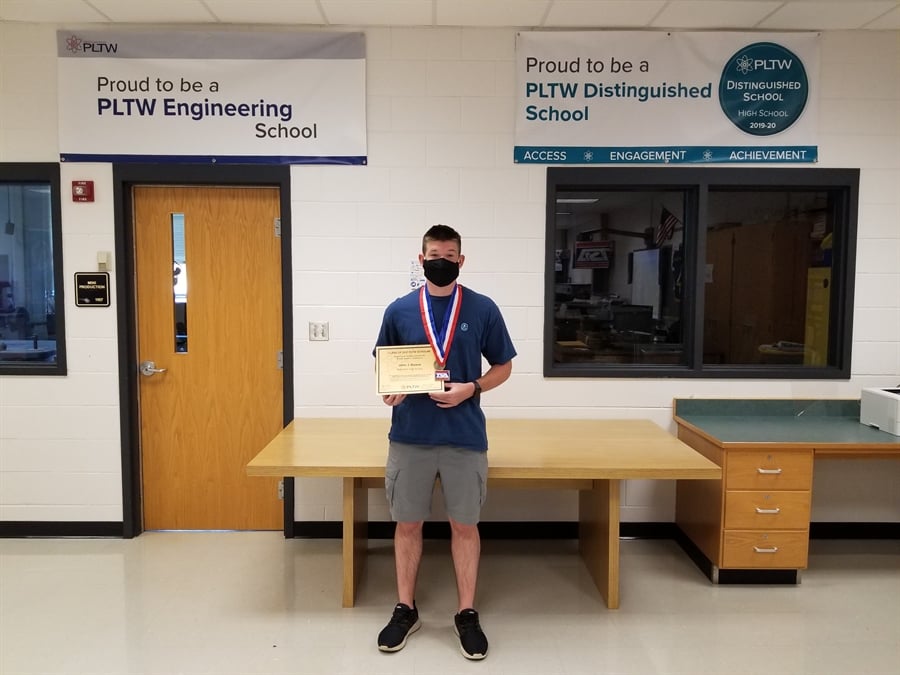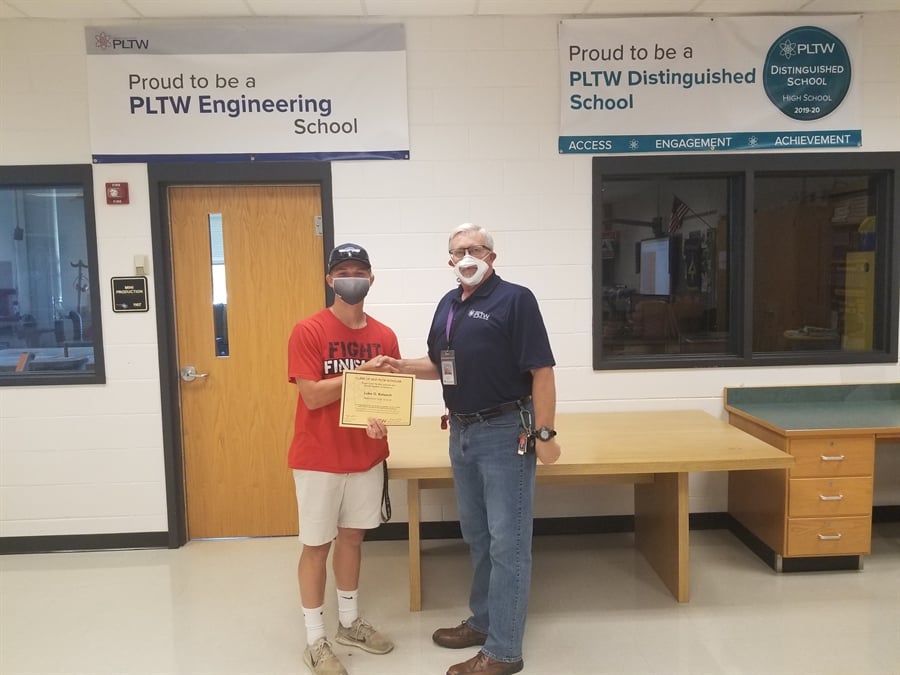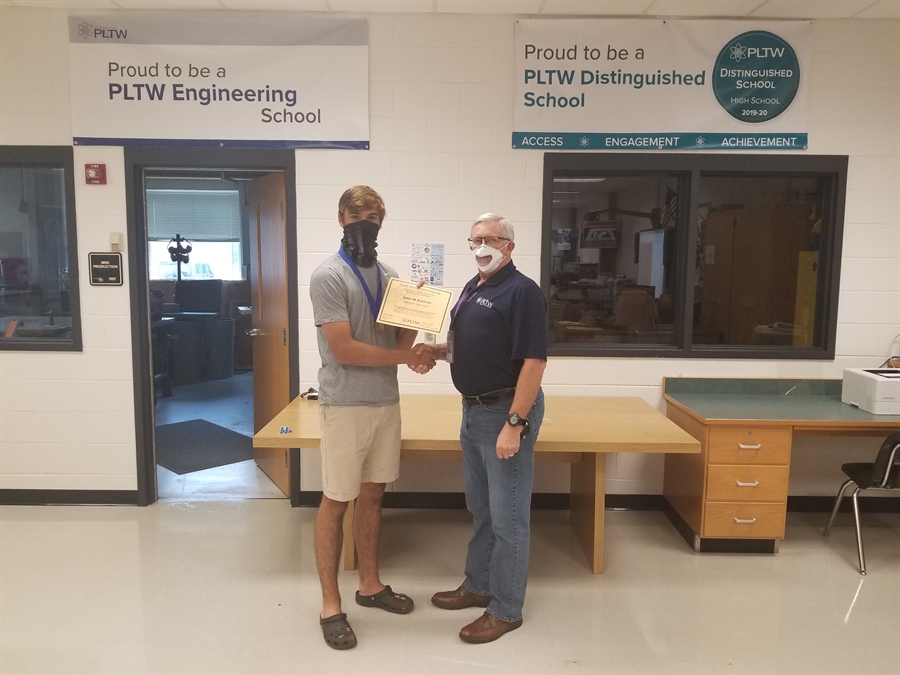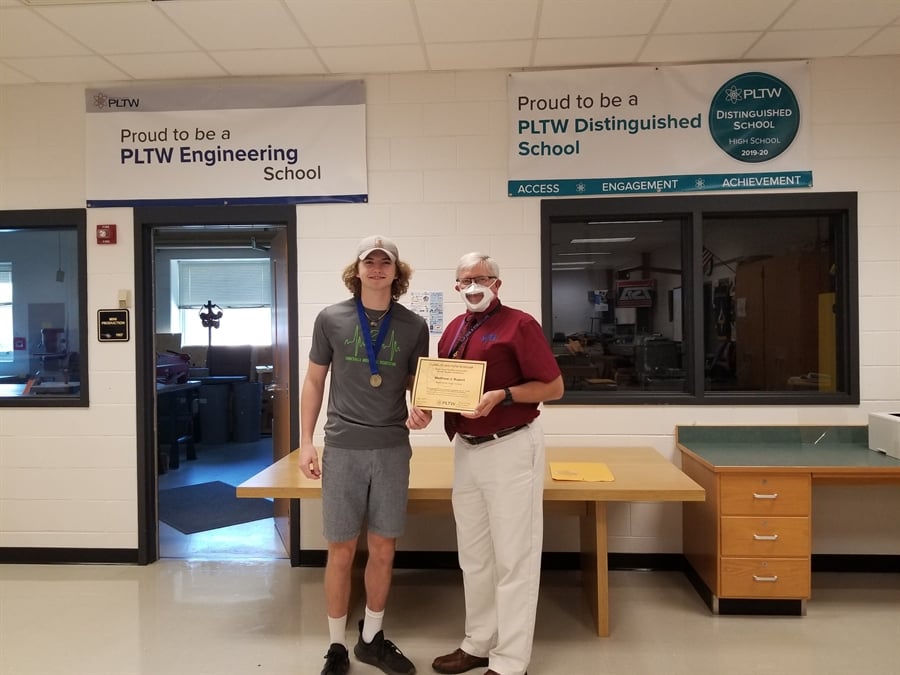 Also at this time, it is our pleasure to introduce our Project Lead The Way Engineering Pathway Distinguished Student, or in this case, our Co-Engineering Pathway Students of the Year! Mr. Alexander Geneva and Ms. Sabria Nesmith have earned this distinction through their consistent and demonstrated commitment to excellence. Their unfailing team leadership and individual achievement has been nothing short of remarkable and we are very proud to have had the opportunity to instruct them both. Xander will be attending The Ohio State University and Sabria is heading to Purdue University! Congratulations to each of you and thank you for joining us in the PLTW Engineering Pathway program at Battlefield High School!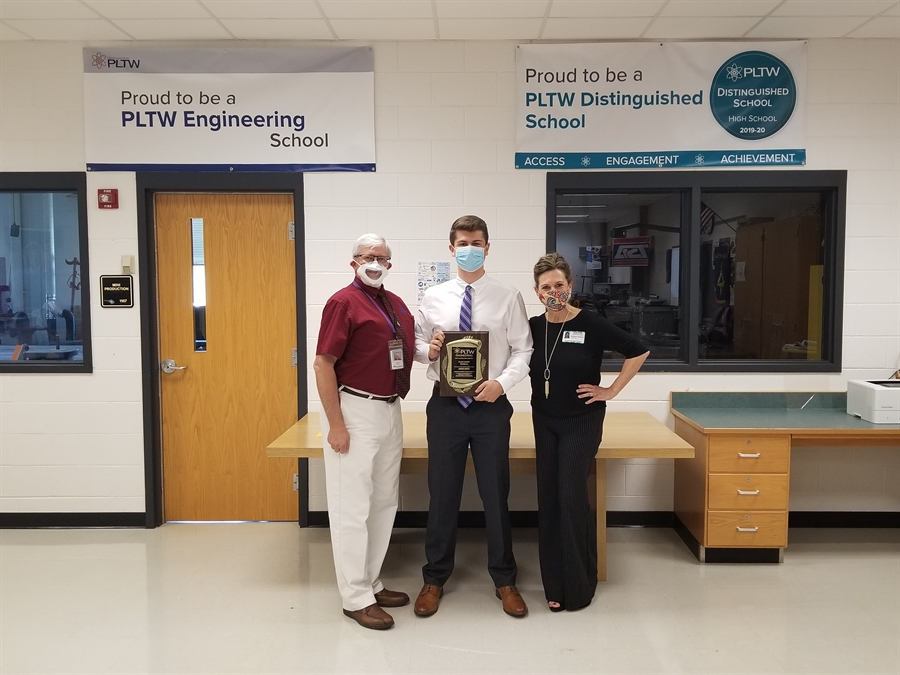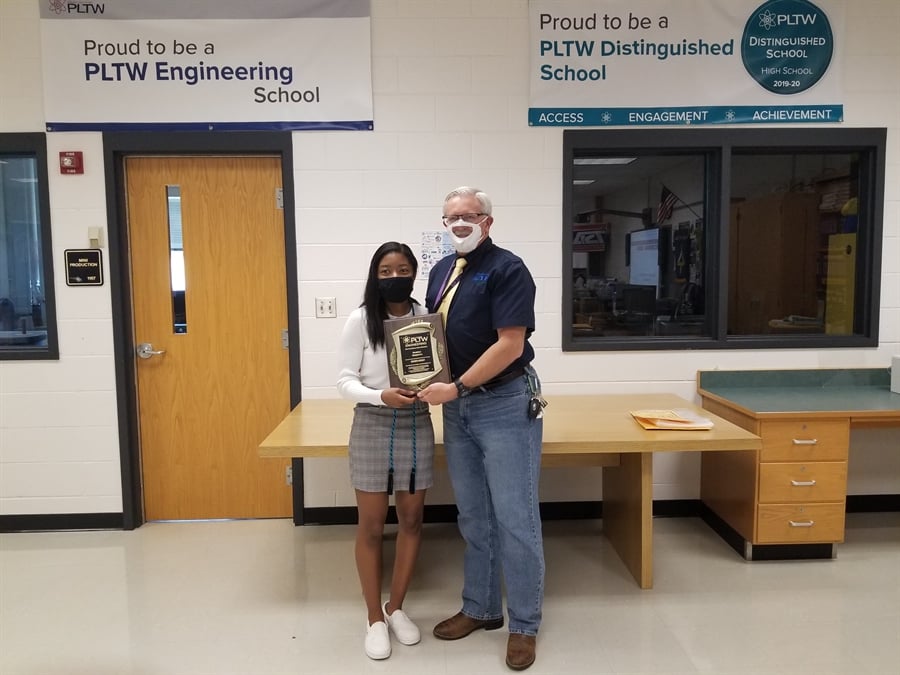 Please take time to read the White Paper from PLTW on the End of Course Assessment for 2018-19 (PDF)

Visit the Project Lead the Way website for an Overview of the Project Lead The Way program and curriculum overview.
The following projects and co-curricular activities are incorporated into our courses:
Leesburg Aviation Expo

- Friday, OCTOBER 29, 2021! The event was canceled in 2020 but is back on for 2021! Over $350K in Scholarships awarded!!.

Seaperch robotics

- Regional competition March; Nationals June

StellarXplorers

- Whole new team in SY 2021-2022. If interested, let Mr. Bishop know. Sept Registration, Nov Qualification; Quarterfinals Dec/Jan; SemiFinals Feb; Finals April.

T

echnology Student Association

-

Tues & Thurs weekly; Regional competition Feb/Mar; Technosphere (State Competition) May; Nationals June
VEX Robotics - In conjunction with TSA throughout the year and at Technosphere/Nationals!
Virginia Department of Transportation Expo -Was held virtually April 2021. Looking for hands-on experience in 2021-2022.

Solar Car Challenge

- Webinars begin in October.
Our instructors are Mr. George D. Bishop and Mr. Micheal Spudic.
Mr. Bishop is PLTW certified to instruct the Introduction to Engineering Design, Digital Electronics, Civil Engineering Architecture and Engineering Design and Development classes while Mr. Spudic is PLTW certified in Introduction to Engineering Design and Principles of Engineering. Both instructors hold Master's Degrees and multiple endorsements. In addition to their regular teaching duties, Mr. Bishop is an adviser for the Technology Student Association, the StellarXplorers, and Seaperch, while Mr. Spudic coaches the Battlefield High School Wrestling team. Both men are heavily involved in their local communities as well and both are Commercially Licensed Drivers with assigned Activity buses to make transportation to events easier. Mr. Spudic coaches multiple youth sports teams and Mr. Bishop is a member of his local Lions Club, the American Legion, the Marine Corps League and Epsilon Pi Tau - an international Technology Honorary Society. Additionally, Mr. Bishop is the Region 1 Director for the International Technology and Engineering Educators Association, a Past President of the Virginia Technology and Engineering Education Association and the Immediate Past President t of the Virginia Association for Career and Technical Education. These professional organizations work to improve the Career and Technical Education experience for every student in the Commonwealth.
Virginia Technology and Engineering Education Association
International Technology and Engineering Educators Association